Food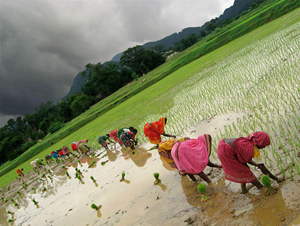 It is time to rethink how we grow, share and consume our food.
If done right, agriculture, forestry and fisheries can provide nutritious food for all and generate decent incomes, while supporting people-centred rural development and protecting the environment.
But right now, our soils, freshwater, oceans, forests and biodiversity are being rapidly degraded. Climate change is putting even more pressure on the resources we depend on.
A profound change of the global food and agriculture system is needed if we are to nourish today's 925 million hungry and the additional 2 billion people expected by 2050.
The food and agriculture sector offers key solutions for development, and is central for hunger and poverty eradication.
Download the UN-DESA Issue Brief on Food Security and Sustainable Agriculture
More information can be found on the Rio+20 Campaigns website.