Changing environmental governance in a changing world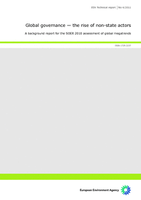 Climate change, growing consumption and urbanisation, spiralling resource use and new health risks are just some of the global pressures the world will face in the 21st Century. These are the findings from the Assessment of Global Megatrends, launched in November 2010 as part of the State and Outlook of the European Environment Report (SOER) and now published in a new book version.
The pressures on the environment are becoming increasingly interlinked and globalised, requiring a new kind of environmental governance. The EEA has also released a supporting background report to the Global Megatrends assessment entitled Global Governance: the Rise of the Non-State Actors, which considers the implications of this phenomenon.
It describes how non-state actors such as multinational corporations (MNCs), non-governmental organisations (NGOs) and scientific organisations are increasingly involved in global governance.
These relatively new actors are now take part in formulating, negotiating and implementing policy at local, regional and global levels. Evidence of this change can be seen in the number of NGOs holding advisory status to the UN Economic and Social Council, which has increased constantly from approximately 700 in 1992 to almost 3,200 now.
Jacqueline McGlade, Executive Director of the EEA, said: "The involvement of NGOs and other non-state actors in governance has increased dramatically over the last few decades. One of the main discussion points at next year's Rio 2012 sustainable development summit will be environmental governance, and we expect the model of multi-level, multi-stakeholder governance pioneered within the EU to be increasingly important globally.
"All kinds of organisations should be involved in environmental protection, particularly as environmental problems become more complex and interlinked. However, this change in the nature of governance also brings new challenges, regarding the sources of evidence used in policy-making."
See for more information: http://www.eea.europa.eu/highlights/changing-environmental-governance-in-a
Originally posted on at http://www.ieg.earthsystemgovernance.org/publications/changing-environmental-governance-changing-world