Publications
What are Sustainable Development Goals?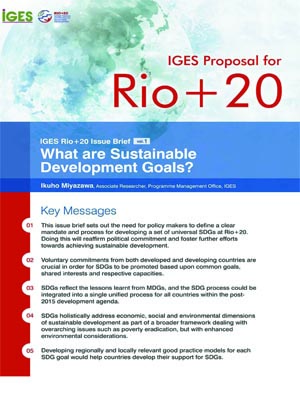 This brief, which addresses issues surrounding the Sustainable Development Goals (SDGs) proposed by Columbia, Guatemala, and Peru during the Rio+20 processes, aims to remind policymakers and other stakeholders of the importance of reaching a solid outcome at Rio+20, as well as for the future. The following provides a summary of ongoing discussions and informal consultations concerning SDGs, and expounds on IGES' views for a mandate and process for developing a set of universal SDGs.
Integrating the SDG processes and other initiatives into a single unified process would be highly advantageous as this would set out a clear post-2015 framework.
For the full report click here.