Bring the Future Back in the Text!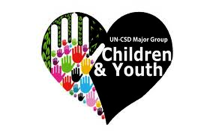 The newly released Rio+20 negotiation text by the host country Brazil is an attempt to "make all delegates a bit happy, and a bit unhappy" said Ambassador Luiz Alberto Figueiredo Machado, Executive Secretary of Brazil's National Commission for Rio+20. But at least for youth, it is making us very unhappy indeed! Civil society participation has been severely reduced, the Sustainable Development Council is off the table, UNEP is not receiving a coordinating role, and crucially the High-Level Representative for Sustainable Development and Future Generations has been deleted from the text.
This deletion (previously Paragraph 80) is a serious concern for youth at the Rio+20 conference. Alice Vincent a youth activist from the UK says, "I strongly believe that a Rio+20 outcome that does not include the creation of such an advocate for the needs of future generation wouldn't be worthy of the title The Future We Want."
The interests and needs of those who will inherit this planet are being systematically compromised by the short-term nature of decision-making and policy. A High-level Representative for Sustainable Development and Future Generations will be tasked with helping government to bring sustainable development, often separate from core policy issues, into the heart of all decision-making.
Rhoda Robinson youth activist from Nigeria said "The removal of this text effectively relegates youth and future generations to the side-lines to watch – not participate – in deciding on our future. This may not look like it something of concern to a young person in Africa but we cannot continue to have no representation, no say and no access to decisions that affect us."
"This is a one-time opportunity to influence the outcome text in a clear and radical way and make sure that Rio+20 goes beyond just copying the language of previous agreements" says Mathieu Soete, President of the Environmental Working Group, AEGEE / European Students' Forum.
The High-level Representative would work in close cooperation with civil society to represent their concerns and to further their participation at the United Nations. This efficient and innovative solution would ensure a more integrated approach to sustainable development – one of the key objectives of the Rio+20 Conference – and embed long-termism into our political thinking.
Kate Offerdahl from Columbia University says, "Young people are demanding that this language be reinserted into the negotiating text and that a High-level Representative for Sustainable Development and Future Generations be an enduring accomplishment of the Rio+20 Conference".
In addition to the representation of future generations and young people in the form of a High-Level Representative, wider youth participation throughout the process of developing the Sustainable Development Goals (SDGs), inclusion of youth delegates in all member state delegations, and meaningful and effective youth participation across UN sustainable development forums are all key to making sure the interests of youth are represented and their voices are heard.
Laurence Dambuki. African Union Youth delegate said, "Developing countries are particularly concerned about improving means of implementation to ensure the effectiveness of the interventions and to invest financial and human resources efficiently. This proposal would be instrumental in addressing current implementation gaps by helping governments and UN bodies work together on long-term planning and the sharing of best practice."