Local Authorities
Agenda 21: Chapter 28 – Local Authorities' Initiatives in Support of Agenda 21
28.1. Because so many of the problems and solutions being addressed by Agenda 21 have their roots in local activities, the participation and cooperation of local authorities will be a determining factor in fulfilling its objectives. Local authorities construct, operate and maintain economic, social and environmental infrastructure, oversee planning processes, establish local environmental policies and regulations, and assist in implementing national and subnational environmental policies. As the level of governance closest to the people, they play a vital role in educating, mobilizing and responding to the public to promote sustainable development.
To continue reading this chapter from Agenda 21 click here.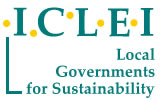 Click here for ICLEI's dedicated Rio+20 website.
Contact Details for Organising Partners
Ms. Susanne Salz
ICLEI – Local Governments for Sustainability * World Secretariat
Kaiser-Friedrich-Str. 7,
53113 Bonn, Germany
Tel: +49-(0)228 / 976 299-11 (Bonn office)
Fax: +49-(0)228 / 976 299-01 (Bonn office)
E-mail: [email protected]