UNEP's "Our Planet" Magazine, special Rio+20 Edition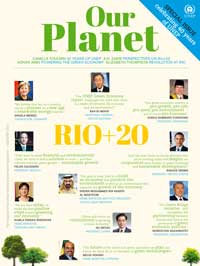 The latest edition of the United Nations Environment Programme's magazine "Our Planet" is a special feature edition celebrating 40 years of UNEP and looking forward to Rio+20. The magazine includes articles from Elizabeth Thompson, Executive Coordinator for Rio+20 and Stakeholder Forum's Felix Dodds on the upcoming book "Only One Earth".
To download the magazine click here.