UNEP publishes GEO-5 Report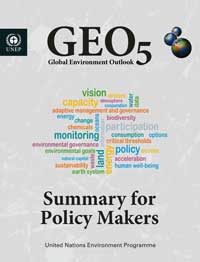 The United Nations Environment Programme has published its latest edition of the compreshensive Global Environment Outlook report, the last report (GEO-4) having been published in 2007. This Summary for Policy Makers highlights the findings of the fifth Global Environment Outlook (GEO-5) report and was prepared by the UNEP Secretariart with guidance from members of the GEO-5 High-level Intergovernmental Advisory Panel.
To download the document click here.