World Resources Institute and Article 19 produce paper on Principle 10 for Stakeholder Forum's SDG2012 programme
WRI and Article 19 have produced a paper on Principle 10 (Access to Information, Participation and Access to Justice) as an Access Initiative contribution to the discussions on the institutional framework for sustainable development towards Rio+20. This forms one of the series of papers that Stakeholder Forum has commissioned as part of its sdg2012 programme.
Click here to read the paper and find out more about the programme.
Moving from Principles to Rights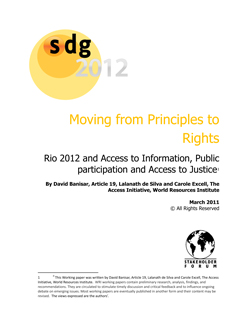 By David Banisar, Article 19, Lalanath de Silva and Carole Excell, The
Access Initiative, World Resources Institute